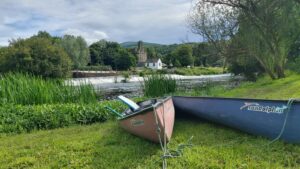 How are things in Graiguenamanagh?
I'm not sure if the composers of the famous 1940's nostalgic melody, 'How are things in Glocca Morra' had a place like Graiguenamanagh in mind when they penned the émigré's plaintive anthem, but it certainly fits the bill.
Nestled snuggly on the banks of the River Barrow at the foot of Brandon Hill, with its loyalties torn between counties Kilkenny and Carlow, Graiguenamanagh is certainly a place that could easily eat into your heart and leave you hankering for home.
It is the River Barrow though that is at the heart of the matter and is in the heart of the town and its very heartbeat.
With the full house signs up around the popular coastal resorts, restricted access, reduced services and prices going in the opposite direction, I was anxious to find a spot that could offer some respite and less of the fuss as the 2020 camping season belatedly and finally got underway.
After some research, I decided to take a detour from some of my favourite seaside spots and take a chance instead on an inland port of call.
But there still had to be water. I've always had a soft spot for the River Barrow, the finest of rivers which is well used to playing second fiddle to the broad majestic Shannon. The Jesuit poet, Gerard Manley Hopkins, correctly christened Ireland's second biggest expanse of water, 'the burling Barrow brown' as it takes its deep complexion from the bogs of Laois and Kildare from where it rises and finds its early course.
With its source buried in the myths and mists of the Slieve Blooms before it heads down through Mountmellick, Portarlington, Monasterevin, Vicarstown and Athy, it's many a summers' day I spent fishing or simply gallivanting along its banks.
However, it's further south in Carlow and Kilkenny that the River Barrow really stretches its legs, flexes its muscles and opens out its broad shoulders. It is great news that work is finally getting underway on the The Barrow Way in Kildare and Laois, for it is a resource and asset to be loved and enjoyed.
That's just the case in Graiguenamanagh, where we managed to get a good berth right next to the river bank at the Barrow Valley Activities Hub in Graiguenamanagh, and it is the river that is at the heart of the action.
The place is steeped in history, the local Duiske Abbey chimes out the hours, sometimes the only sound competing with the relentlessly rushing water of the town weir. There is folklore and heritage engraved on every stone, the Abbey lends its name to the famous Duiske glassware, and if you weren't careful you'd end up at the bottom of a holy well as this place had no shortage of saints in its day, a holy well every bend on the road or the river.
But in 2020 Covid Ireland, camping is the new religion and the Activities Hub in Graiguenamanagh is a godsend for the weary traveller, or indeed for those of us just looking to get out of the house!
So I strategically swapped my surfboard for a kayak and landed in Graiguenamanagh on a glorious Sunday afternoon. From the get go things were great and everyone we met so friendly and helpful. Some day trippers had parked their motorhomes along the quayside, which is also home to the barge dwellers and boat owners who have long known the delights of the Barrow Way.
The Activities Hub, a community enterprise, offers overnight parking for motorhomes for as little as a tenner a night. There is an additional fiver cost if you use one of the site's 8 electrical hook ups. There are toilets, a chemical loo disposal facility and a makeshift wash-up area, but the showers are out of commission due to Covid restrictions. There is an optional additional €2 suggested if you use the site's waste disposal bins, which I'd say is more than fair. So for 3 nights (one without EHU) we paid €40 and a €5 towards the garbage.
The staff and the entire team at the Activities Hub could not have been more helpful and it looks like we missed out on a mighty music session on site the previous Saturday night. A special thanks to Joe for all his advice and tips. The location is really family friendly and well behaved dogs are also welcome.
It is important to note that this site does not accept tents or caravans at all and if I was to have a quibble it would be that there was no hot water (although all other Covid compliance was strictly enforced and adhered to); the wash-up area needs some attention, (while it didn't help that some selfish folk blocked one of the two sinks with their coffee grounds) and the chem toilet disposal badly needs to be signposted and relocated to the rear of the complex.
Campers at the Activities Hub in Graiguenamanagh share the facility with the local community who are good neighbours as they go about their daily routine, walk their dogs or enjoy the riverside walks and amenity.
On Monday night we had the company of the hunks from the local hurling club as they were put through their paces; on Tuesday evening it was the ladies' turn to strut their stuff at for their ghetto-blaster accompanied workout, while on Wednesday for the piece de resistance the riverside stage was set and the red carpet rolled out for a lovely wedding.
Meanwhile back along the River Barrow it's all go, whether you are in to walking, trekking, hiking, biking, fishing, swimming, canoeing, kayaking, bird watching or just plain old chilling out, Graiguenamanagh and its environs has it all. The river bank is teeming with birds, bees, butterflies and biodiversity, and we even came on a curious otter along the tow-path.
Upstream towards Clashganny Lock (which can also be seen from the viewing point at Coolnamaraon the R729, you can hire out canoes and seek advice for activity on the river from Go With the Flow River Adventures, which many groups seemed to be enjoying. There is also a designated spot on the river for swimming, complete with friendly lifeguards.
Down river just 8km away is the resplendent St Mullins. A stretch of water to leave you breathless, trout plopping in the still water, more history, saints, holy wells and the scrumptious fayre of The Mullicháin Café, served up al fresco on the river bank by the loveliest most helpful staff; physical distancing yes, but a most sociable affair, with only cakes to die for. (They are open Tuesday through to Sunday from 11am to 6pm). It's a busy little spot which partners up really well with the neighbouring Graiguenamanagh and accessible along the river by barge, boat, kayak or canoe (although beware there are a few locks and weirs), or you can bike along the Barrow Way, or stroll by Shank's Mare on the dedicated trail safely shared by walkers and cyclists.
Before wrapping up this post I think it's important to mention a few more points.
The River Barrow is wonderful but as I previously outlined there are multiple locks and weirs to be negotiated along this navigation and care is advised. Furthermore, while the river is relatively benign at this time of the year it is given to flooding in the winter, and even in the summer prone to dangerous currents. We were cautioned of a near tragic incident earlier in June, which could have ended in disaster if it wasn't for the courage and alertness of two local lads, as was widely reported in the media.
When camping I prefer to cook up fresh local food or take it handy over a BBQ, as well as checking out what's on offer locally and supporting businesses in the area, especially those that are welcoming to campers.
Well, in Graiguenamanagh there is the Graig Garden on Main Street, which is stunningly and delightfully decorated in a colourful burst of hanging baskets. The effort which must go into this is also reflected with the care which goes in to their food and I couldn't recommend the place enough as we can vouch for their pizzas, hand cut chips and prawn biryani which we devoured on our final evening.
Also, as there is so much pressure on spaces, sites booked out and demand for camping this season in the year of staycations, it is important for me to make you aware of two further camping options in this locality.
Just 1km out the Inistioge road in Graiguenamanagh is Brandon Hill Camping, which provides glamping, camping, tents for hire and caters for campervans and caravans. It looked like a lovely spot when we stopped by to check it out and Ken, the proprietor of this family run location was most helpful. You can reach him on 086 8825875. When we called on early Wednesday afternoon there was two good old boys striking up a Tommy Makem tune, in what looked like the makings of a good session. I was sorry we couldn't stay on…
Also, while we were mooching around St Molling's patch in St. Mullins we came on a sign offering camping for tents which is worth looking in to if you fancy spending a night beneath the stars in a nice spot down near the river. The number advertising the camping and bike hire was 089 2096474.
That's Graiguenamanagh and St Mullins with some of the most scenic lush landscape of The Barrow Way for you, including a campsite fit for your wedding day, to take your sacred vows, for a match made in heaven… Camper Heaven!
Vanhalla